My friend Melody is hosting a quick chunky mini album swap, and I'm partnered with my dear pal Joakima! So I made her mini using the coveted Mariposa stack from Die Cuts With a View. First, here's a video:
And now for the pictures! I had to download Picasa's free editing software since all mine is on my waterlogged laptop. It's pretty good for freeware!
A big Prima flower I got on clearance at Michael's, and a Prima purple gossamer butterfly. Kima loves butterflies, so I had to incorporate them! I kept the album closed with a Tim Holtz grunge board hinge and velcro.
For the left side I used a piece of overhead projector transparency paper for the pocket. The butterfly will hold a picture or a tag. On the right, I used lace from my friend Debbie, and I cut out a birdcage from the Mariposa stack. I love it!



Just a piece of paper and some lace from Deb.



I used an envelope mini (thanks Laura!) to add lots of space for pictures and journaling. There are two double sided photo mats and four tags, plus two one-sided photo mats.



I will post pictures of the accordion pullouts later, I forgot to photograph them! The right page is a double pocket card I made from a YouTube tutorial.



I cut the top note by hand, ran it through the Cuttlebug with the argyle embossing folder, and accented the raised stitches with a black Zig marker. Then I inked the edges. I heat embossed the swirls on the right side of the page.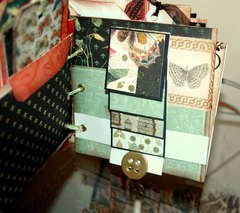 A waterfall card. I learned how to make this by watching a tutorial from StampFest on YouTube.